Once upon a time, the most magical bottle collection for your essential oils was created. When I saw the Whimsy and Wellness Fairytale collection I fell in love with the simple, whimsical designs. Each bottle is printed with a sweet message and comes with crystals ready for your creation. So of course I had to come up with some blends just for them. Check out these 5 whimsical essential oil blends.
Be Our Guest Room Spray
Freshen your home and welcome guests with this soothing and refreshing blend.
The garnet stones calm erratic energy and bring peace to your surroundings. They also help relieve negativity and balance the chakras.
Combine essential oils in the Be Our Guest spray bottle. Top off with vodka or distilled water and gently swirl to mix.
Wish Upon a Star Diffuser Blend
Use a few drops of this whimsical blend in your diffuser for a restful night of sweet dreams. The amethyst crystals in this bottle help relieve stress and anxiety, as well as increase intuition.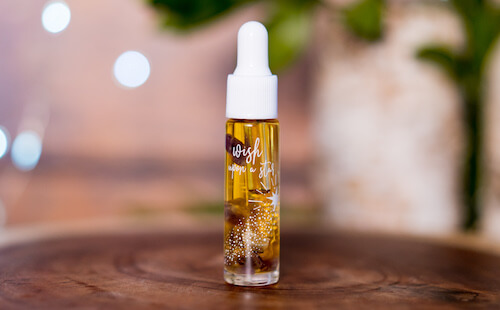 Combine essential oils in the Wish Upon a Star dropper bottle. Add 6-12 drops of the blend to your diffuser at bedtime.
Fairest of Them All Roller Blend
Pamper your skin with this roller blend. The essential oils combat the signs of aging and promote a silky smooth complexion. The rose quartz crystals encourage confidence and self love. . .perfect for this nourishing blend.
Combine essential oils in the Fairest of Them All roller bottle. Top off with jojoba oil. Cleanse face and neck and apply this blend, paying special attention to problem areas, such as the décolletage and under the eyes.
Never Grow Up Roller Blend
Bring out your inner child with this whimsical roller blend. The bright, sweet aroma will become one of your favorite blends to wear daily as a perfume. The blue calcite soothe frayed nerves and lessen anxiety, helping to release negative emotions.
Combine essential oils in the Never Grow Up roller bottle. Top off with fractionated coconut oil or another neutral carrier. Roll on generously as desired. (Avoid applying to sensitive areas because of the lemongrass in this blend.)
Happily Ever After Perfume
This uplifting perfume is fresh and bright. The sunstone crystals luck clear and energize the chakras. They also heighten intuition and allow the real self to shine through happily.
Combine essential oils and vanilla in the Happily Ever After roller. Top off with fractionated coconut oil or another neutral carrier oil.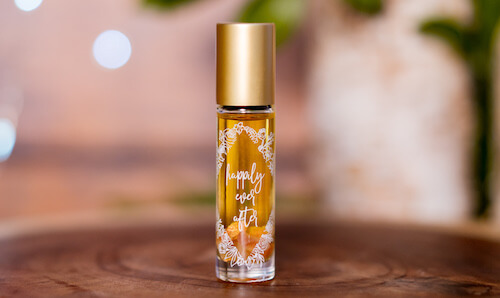 Ready to make your own set of whimsical Fairytale Blends? Head to Whimsy and Wellness and search for the fairytale collection.
---
If you love making DIY perfumes, check out this blog post for even more ideas!